Tralee Casino
More about our Tralee Premier Casino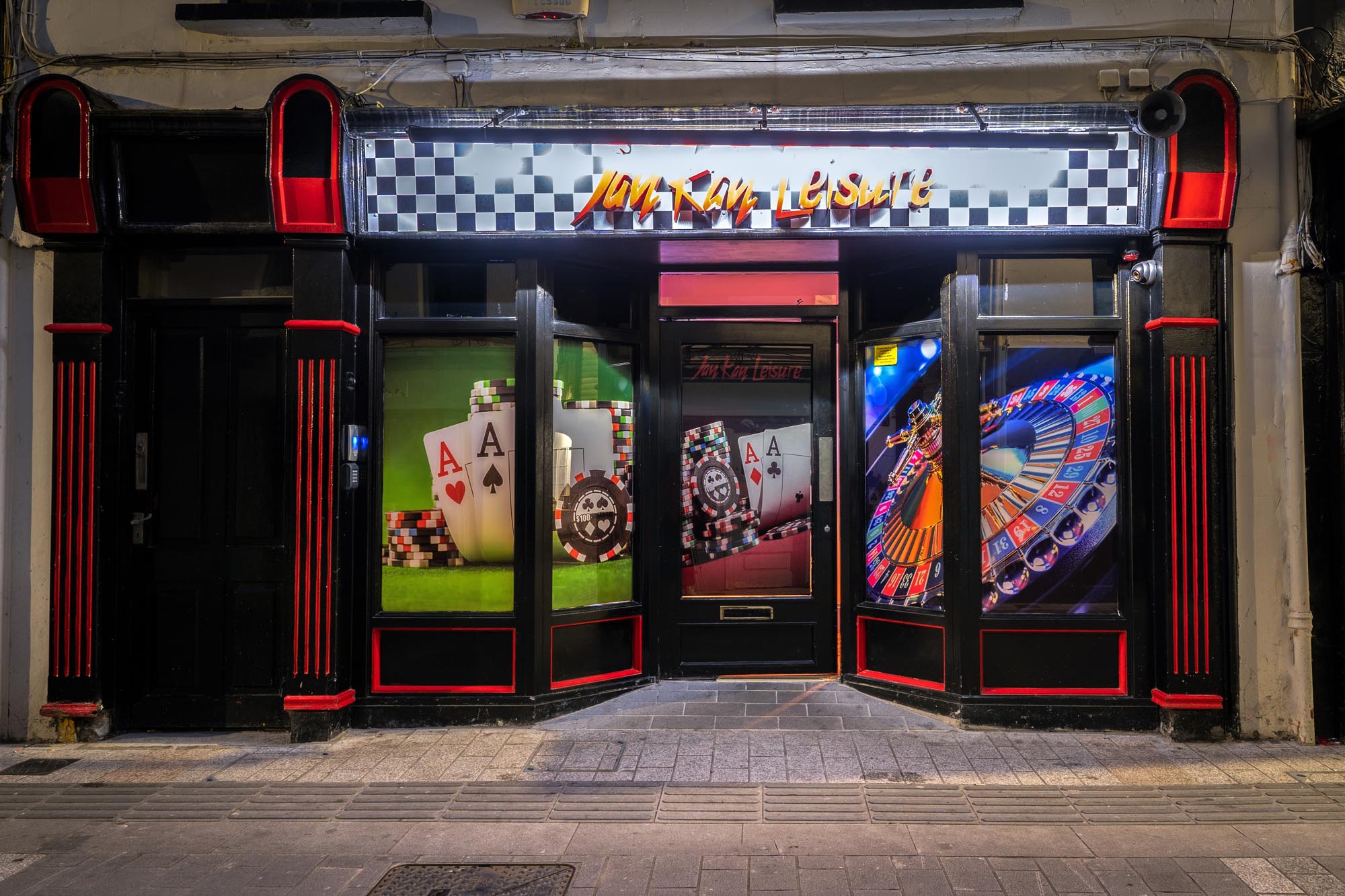 Premier Casino's Co Kerry location is in the bustling town of Tralee.
Located on the town's central Russell Street, it's a well-established part of this busy tourism and business town. Just a short walk from the well-known Kirby's Brogue Inn it is set up to avail of all the town's amenities, including shops, cafes, restaurants and public parking.
As with all Premier Casino properties, you'll find a welcoming team with expert knowledge of the casino with around 50-70 machines to play on. Incorporating roulette, slots and video games there is a great atmosphere and plenty of space to relax.
JayKay Leisure, 12 Russell Street,
Tralee, Kerry, V92 FE40
Opening hours:
10:00-02:00
What Amenities are Available in Premier Casinos?
The following amenities are all on offer near Leeside Leisure as well as our other locations across the country:
Where to play Casino games in Kerry
With over 70 machines on offer, there is plenty to choose from and our helpful team of staff is ready to help you with any queries, questions or advice on games.
Play Roulette in Kerry
Play Roulette in Kerry's best known Casino. Premier Casinos offers Irelands best electronic roulette gaming experience which can be found on our ground floor. 
With 8 screens on each roulette game, it is a great way to socialise with friends or other participants. 
Historically, roulette is the most popular game in casinos both on and offline. 
Premier Casinos offers the very best quality electronic roulette games for any level of experience in playing the game.
Play Slot machines in Kerry
Why not try our most popular attraction, Slot machines? We offer a wide range of gaming options and games with low wagers that allow you to play for longer and bet across multiple paylines.
The vast majority of our slot machines provide dedicated seating and they are one of the most exciting and most sought after features at Premier Casinos.
Kerry's best Jackpot
Come and experience some of Ireland's biggest and most frequent jackpots. Don't miss out on our Daily and Mega jackpots for a chance to win big. 
Jackpots are available in all Premier Casino locations across Ireland, and they are often the most popular attraction among our customers.
All our slot machines are linked, meaning every time a prize is not won, the jackpot pool rises and your chances of securing a major windfall increase.
As a result, jackpots are the most fruitful feature at Premier Casinos.
Casino Games Kerry
Premier Casinos offers all your classic casino games available in Kerry. Games such as blackjack and poker are available on machines found on the ground floor. 
There is a wide range of popular casino games available to play on our modern, electronic machines.
Things to do in Tralee
Tralee is a vibrant town with tons of activities to choose from. There are plenty of walks and museums to explore by day and pubs to visit at night and experience the Tralee music scene. 
If you are looking for late night entertainment in Tralee, why not visit Kerry's most popular late night casino, Premier Casino Tralee. Open until 2am, 7 days a week.
Why not try out other Casino locations
Premier Casinos boast 6 different locations offering late night entertainment, refreshments and a chance to win big.
If you enjoy your experience at Premier Casinos Tralee, why not try another of our late-night venues in other parts of the country?
Gamble Responsibly
Premier casinos encourage everyone to gamble responsibly and to only place wagers within their means.
You should only gamble with money you can afford to lose – Premier Casinos aim to provide a fun and social environment so remember to set limits and that you can always take a break.
We hope to see you soon
Premier Casinos hope to see you in our Tralee location, or in any of our other 5 Locations across Ireland very soon.