Clondalkin Casino – Premier Casinos
More about our Clondalkin Premier Casino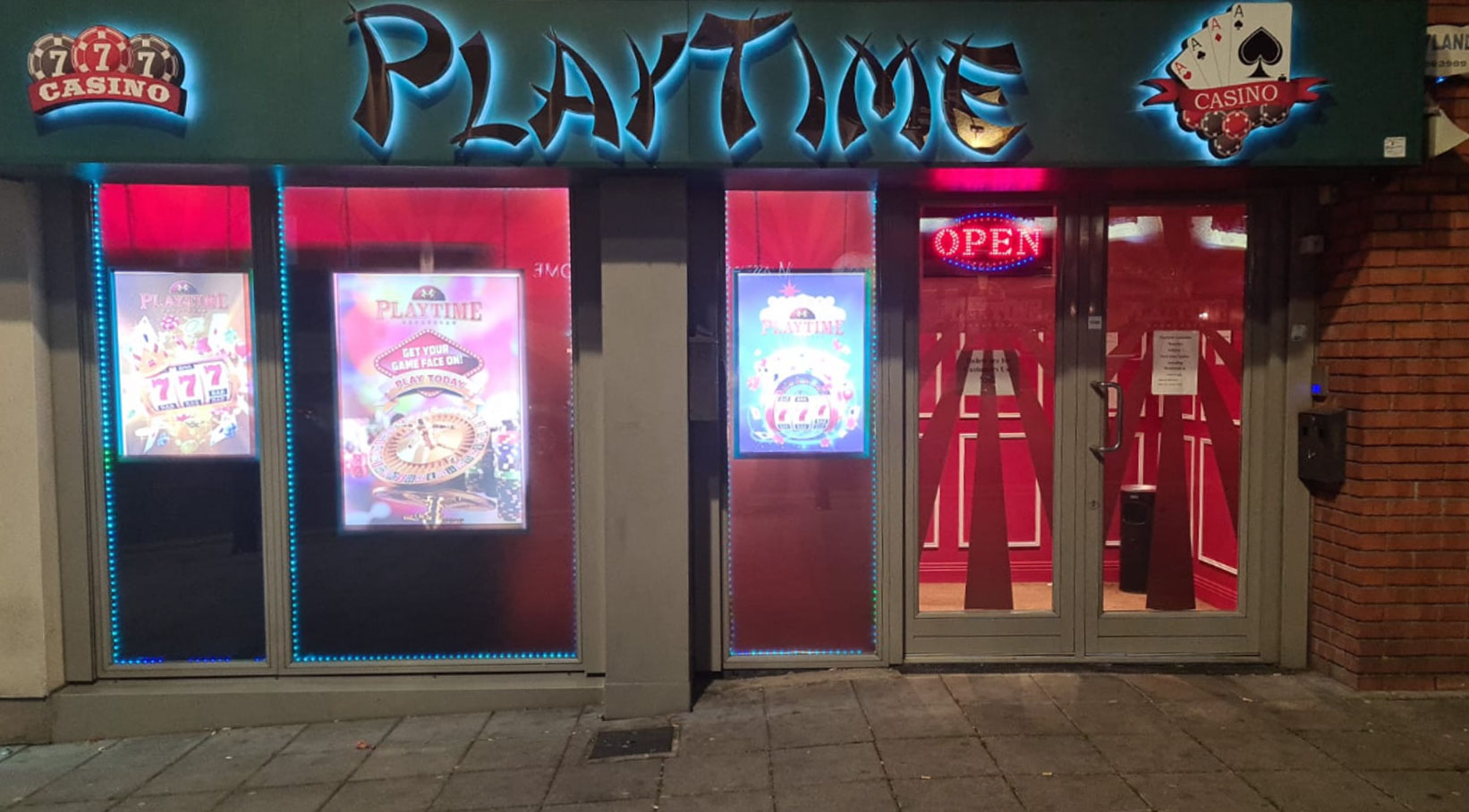 Clondalkin is home to South West Dublin's best casino, Premier Casino. Situated across the street from the Black Lion Pub, there's plenty of on-street parking and easy access to Clondalkin's amenities, including ATMs, restaurants and cafes. 
Our Dublin Casino Offers 50 machines and maintains the high standard of other Premier Casinos around the country. 
Visit our Clondalkin casino to avail of roulette, slots and video games, it offers comfortable surroundings, complimentary refreshments and a dedicated team to welcome you and make you feel at home.
Playtime, Unit 3a, Orchard Road, Clondalkin, Dublin 22, D22 NT66
Opening hours:
10:00-02:00
Why Choose Clondalkin Premier Casino
Premier Casino offers the best late night entertainment in Dublin, open until 2am and plenty of ways you can win.
What Amenities are Available in Clondalkin Casino?
Opening hours of Clondalkin Casino
Premier Casinos are open at 10am and don't close until 2am. Open 7 days a week.
Things to do in Clondalkin
The vibrant village of Clondalkin has great nightlife with plenty of options to choose from and just a short drive from Dublin City. There is also plenty of public transport available to and from Dublin City. 
After a day of shopping in the Mill shopping centre why not take a break with a relaxing pint and food in the Black Lion pub before joining Premier Casino for some late night entertainment. 
Where to play Casino games in Dublin
Premier Casinos have all the games you know and love. Come and visit us for a chance to win in any of our 6 locations nationwide. 
Play roulette in Dublin
Play Roulette in Dublin's best Casino. Premier Casinos offers Irelands best electronic roulette gaming experience.
With 8 screens on each roulette game, it is a great way to socialise with friends or other customers. 
Historically, roulette is the most popular game in casinos both on and offline. 
Premier Casinos Clondalkin location offers the very best quality electronic roulette games for any level of experience in playing the game.
Play slot machines in Dublin
Come in and try our most popular attraction, Slot machines!  We offer a wide range of gaming options and games with low wagers that allow you to play for longer and bet across multiple paylines.
The vast majority of our slot machines provide dedicated seating and they are one of the most exciting and most sought after features at the Clondalkin Premier Casino. 
Dublin's best Jackpot
Come and experience some of Ireland's biggest and most frequent jackpots. Don't miss out on our Daily and Mega jackpots for a chance to win big. 
Jackpots are available in all Premier Casino locations across Ireland, and they are often the most popular attraction among our customers.
All our slot machines are linked, meaning every time a prize is not won, the jackpot pool rises and your chances of securing a major windfall increase.
As a result, jackpots are the most fruitful feature of Premier Casino Clondalkin. 
Play casino games in Dublin
Play all your favourite casino games; Poker, black jack and other card games available on our video game machines. 
If you can't find the game you want, ask a member of staff and they will show you where it can be played. 
Why not try out other Casino locations
Why not try one of our other 5 locations nationwide. 
All of the Premier casino locations have the luxury and level of service you expect from us. 
Gamble responsibly
Premier casinos encourage everyone to gamble responsibly and to only place wagers within their means. 
You should only gamble with money you can afford to lose – Premier Casinos aim to provide a fun and social environment so remember to set limits and that you can always take a break.
If you feel you are unable to gamble within your means, please speak to a member of staff.
We hope to see you soon.
Premier Casinos hope to see you in our Clondalkin location, or in any of our other 5 Locations across Ireland very soon.
You can find us at Unit 3a, Orchard Road, Clondalkin, Dublin 22, D22 NT66